Readefine Desktop
Beautiful reading offline as well as online
---
Features
Beautiful multi-column, newspaper like layout for RSS and Google Reader.
Dislike scrolling text? Readefine divides text into multiple pages for easy reading.
Mark these as Read - The "Next Page" button in Magazine Layout marks the articles shown to you as read (in Google Reader), then gets more content.
Looks great no matter what screen size.
Use keyboard shortcuts like + and - to change font size. Shift + J to justify text.
Instapaper, ,Twitter, ReadItLater Support.
The desktop version contacts Google directly and only talks to Readefine servers for self-updating.
Resizes pictures and videos to fit within the column.
Re-flows text according to the available size.
Makes long plain text files beautiful and also sections them for performance.
Removes stray newlines, empty p, br tags.
Supports drag and drop of text/rss/html.
Copy paste or load a file from your computer (load, not upload)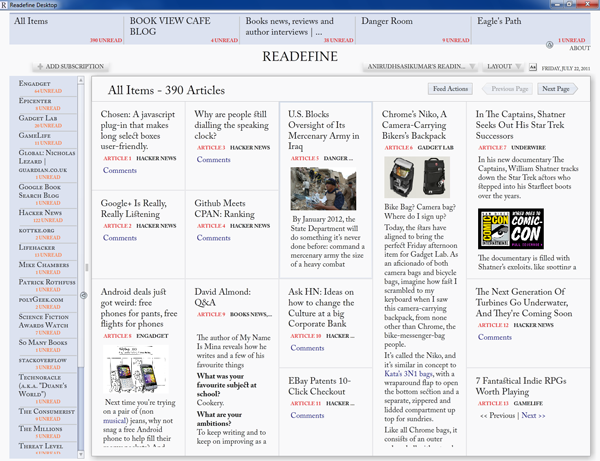 Readefine v2.49 © 2011 by Anirudh Sasikumar.
No Flash? Download the AIR file manually.
Use the installation badge above to install Readefine Desktop.
OR
Make sure you have the Adobe AIR runtime installed.
Download the AIR file.
Now run the downloaded AIR file by double clicking it.
Screenshots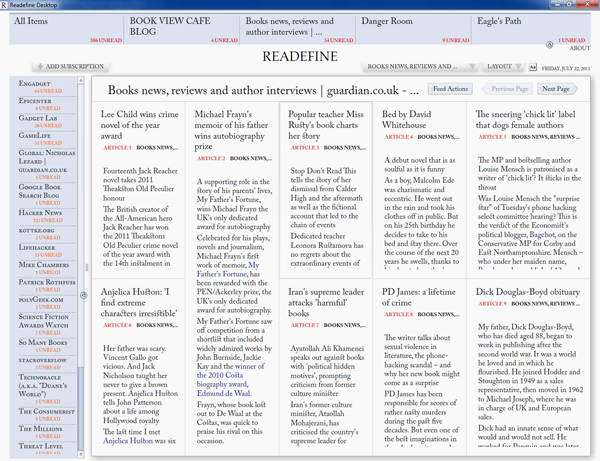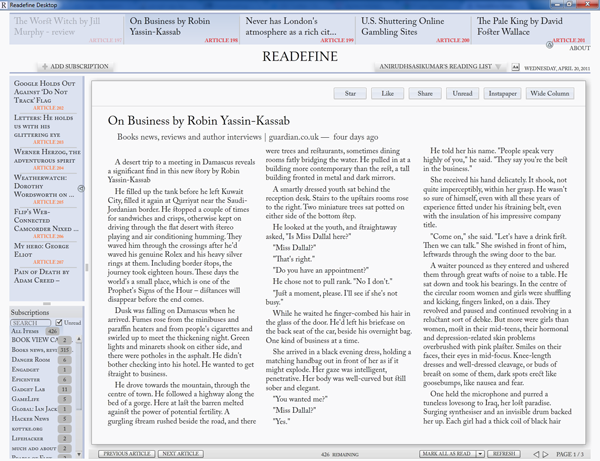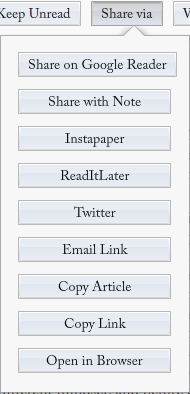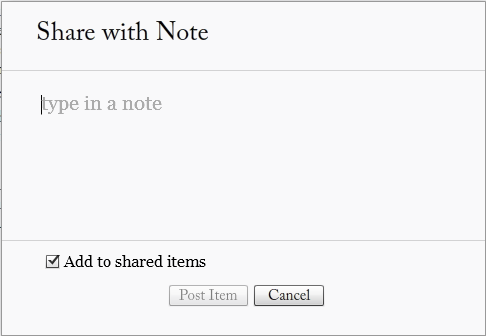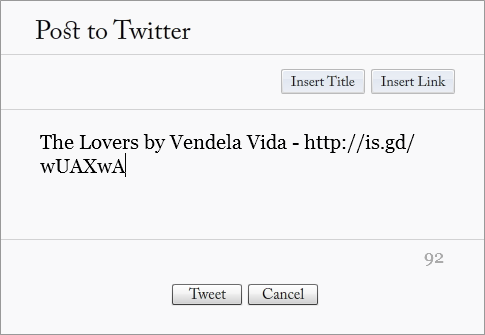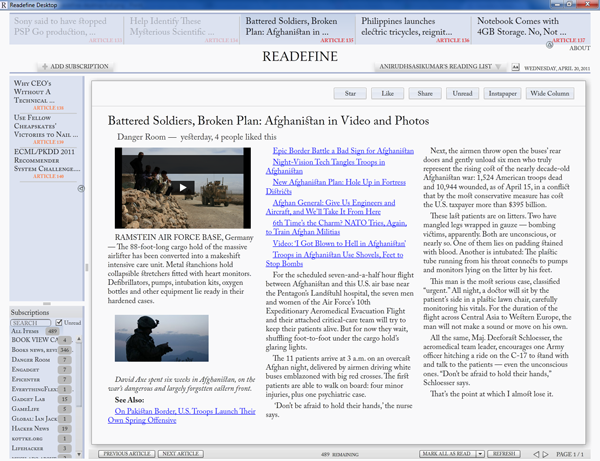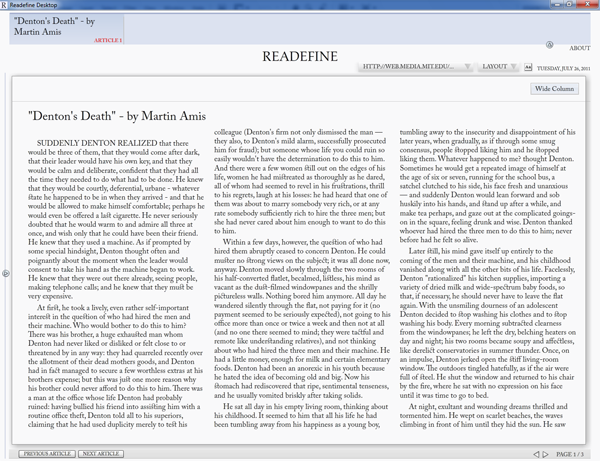 Changelog
2.49: Remove like, share, share with note (API discontinued by Google).
2.48: Add timestamp to Summary view.
2.46: Minor bug fix to "View all Articles".
2.45: Minor bug fixes to Following feed, sync.
2.44: Minor bug fix to unread count.
2.43: Fixed resize of iframe youtube embed.
2.42 - Bug fix: Unread count shown in feed doesn't match number of articles.
2.42 - Bug fix: Space key breaks "Previous page" button in Magazine layout.
2.42 - Bug fix: In Magazine layout, "next Article", "Previous article" does not respect boundary of magazine page.
2.42 - Bug fix: IFrames now appear inline so that more youtube embeds work.
2.42 - Bug fix: Space key when no articles present clears the no article message.
New in 2.4:
Share with note.
"Following" feed where articles shared by your friends can be viewed.
Sync button - Fetch new articles, update unread count.
Fixed "Refresh" not updating Magazine layout.
If article is shared by only one person, then that person's list name appears in the title.
New in 2.3:
Folder collapse / expand.
Limit number of articles shown in magazine view
View starred and 'read' articles in Magazine Layout.
Show all feeds in Magazine Layout.
Press enter to move to next feed when all articles read
Fixed inflated total unread count when folders are present.
New in 2.12:
Fixed broken classic layout.
Fixed Go button not working once already logged into Google Reader.
New in 2.1:
Share via Twitter, ReadItLater, Email.
Settings pane - control whether feeds should change to articles in Google Reader magazine view.
New icon courtesy Rick Vargo (a Readefine user).
New in 2.0:
Brand new Magazine Layout!
Minor user interface improvements.
New in 0.93:
Instapaper support (desktop only).
Experimental video support (desktop only).
Google Reader is the first tab.
Minor user interface improvements.
Feedback
Your feedback is extremely valuable to me. Submit feature requests / bugs / feedback at readefine.uservoice.com or post a Facebook comment below.