Readefine Desktop
Beautifies text from Google Reader, the web and your computer for easy reading
---
Readefine Desktop beautifies Google Reader articles, RSS, plain text and HTML for easy reading. View multiple articles in a fluid, magazine style layout or navigate one article at a time in a book like multi-column layout. Tweak settings like font size, justification, column width, etc. for that perfect look.
Available on Windows, Mac, Linux. Use the installation badge above to install Readefine Desktop. For alternate methods to install, click here.
Checking number of downloads...
2.49: Remove like, share, share with note (API discontinued by Google).
2.48: Add timestamp to Summary view.
2.46: Minor bug fix to "View all Articles".
2.45: Minor bug fixes to Following feed, sync.
2.44: Minor bug fix to unread count.
2.43: Fixed resize of iframe youtube embed.
2.42 - Bug fix: Unread count shown in feed doesn't match number of articles.
2.42 - Bug fix: Space key breaks "Previous page" button in Magazine layout.
2.42 - Bug fix: In Magazine layout, "next Article", "Previous article" does not respect boundary of magazine page.
2.42 - Bug fix: IFrames now appear inline so that more youtube embeds work.
2.42 - Bug fix: Space key when no articles present clears the no article message.
Share with note.
"Following" feed where articles shared by your friends can be viewed.
Sync button - Fetch new articles, update unread count.
Fixed "Refresh" not updating Magazine layout.
If article is shared by only one person, then that person's list name appears in the title.
Folder collapse / expand.
Limit number of articles shown in magazine view
View starred and 'read' articles in Magazine Layout.
Show all feeds in Magazine Layout.
Press enter to move to next feed when all articles read
Fixed inflated total unread count when folders are present.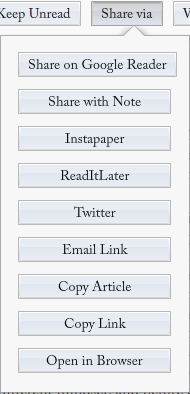 As seen on:
Readefine has a blog and is on Twitter. The original blog post about Readefine is available for historical reasons, but much has changed since then.
Follow these steps if the installation badge did not work for you:
Make sure you have the Adobe AIR runtime installed.
Download the AIR file.
Now run the downloaded AIR file by double clicking it.
About
Readefine v2.49 © 2011 by Anirudh Sasikumar.
Follow Readefine on twitter or stay in touch via Readefine's blog.